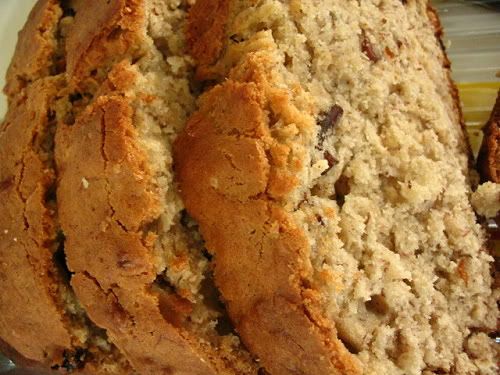 3/4 cup
Unsalted butter
1 cup
Sugar
1 tsp.
Vanilla
2 lg.
Eggs
3 oz.
Cream Cheese
1 3/4 cup
Flour
1/4 tsp.
each of cinnamon, nutmeg, cloves
1 1/4 tsp.
Baking Powder
1/4 tsp.
Salt
1/2 cup
Yellow Raisins
1/2 cup
Brown Raisins
2/3 cup
Buttermilk
Glaze:
1/2 C Confectioner's Sugar
2 1/2 Tsp. Lemon Juice
Set out butter and cream cheese to soften to room temperature.
Preheat oven to 325.
Grease and flour a 9-inch loaf pan.

Use a large bowl to blend with mixer set on low -- butter, sugar and vanilla. Add the eggs and continue to mix until well blended. Add in softened cream cheese and mix until fluffy.
In another bowl stir with spatula the flour, baking powder, spices, and salt.
Slowly stir 1/2 of the flour mixture to the butter batter. Then mix in the buttermilk. Add remaining flour mixture. Last add the raisins.
It is best to use a wooden spoon at this point to finish mixing as the batter will be very thick.
Pour into the loaf pan and tap lightly on counter to even the top smooth.
Bake in center of the oven for 1 hour, 10 minutes. The nut bread should be well browned and often the top will be cracked down the middle.
Mix together the Confectioner's Sugar and lemon juice to make glaze. Pour over warm Raisin Nut Bread and let it soak in.
Wanda Rawlins
http://countryfixins2009.blogspot.com
Country Cooking Recipes