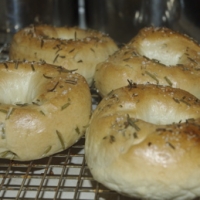 Place yeast in warm water and sugar and allow to bloom. Add flour, salt and 2T rosemary(reserve 1T for garnish) and knead until smooth and shiny. Don't skimp on the kneading. Depending on your type of flour and the humidity, you may have to add a little more or less water.
Let rest at least 20 minutes so the dough can relax. Separate into eight equal sized balls and make into bagel shape by punching a hole in the center of each roll with a finger and stretching the hole out (with your finger) until it is at least 1 inch in diameter (the hole will get smaller once the bagels puff up).
Place on a well floured cookie sheet and let rest another 20 minutes covered with a kitchen towel. At this point you should bring to boil at least 4 inches of water in a large pot with 2T sugar. After the 20 minute rest, place the bagels in rapidly boiling water for 45 seconds on each side. The heat of the water is very important since this is what will make the dough puff up and get chewy.
Drain bagels on a tea towel and place on well greased cookie sheet and sprinkle with the rosemary and then salt .
Bake at 450 for about 15-20 minutes.